PROGRAMME
Unsere Auftritte gliedern sich meistens in
zwei Showblöcke (je20-30 min) die sich aus dem
folgenden Standartrepertoir rekrutieren, oder
auf Wunsch unserer Kunden individuell
produziert werden.

"DER HEITERE MOZART" (Unser HIT)
Heiter Szenen, Arien und Ensembles aus seinen
bekanntesten Opern und Kammerstücken.
Ein fröhlicher und besinnlicher Streifzug durch die wunderbare Musik des Meisters in prachtvollen Rokokokostümen, umrahmt von einer Conference die Ihnen den Menschen Mozart nahebringt.

"DIE FLEDERMAUS" (Finale II. Akt)

Der Höhepunkt aus Johann Strauß´ Fledermaus -
ein fulminanter Gala-Abend beim Grafen Orlowski
mit den unvergänglichen Melodien, die den Ruhm
der "Königin der Operetten" begründen
- dargebracht in Frack und
großer Abendgarderobe.
"THE SOUND OF MUSIC"

Die Highlights von "Climb every mountain"
bis zum Evergreen "Edelweiss".
SPECIALS
Diese gehöhren nicht zu unserem Standardrepertoir und wurden/werden auf Kundenwunsch von uns produziert:
"3 centuries of vieniese music"
"Don Giovanni in Prag"
"Die heiteren Klassiker"
"Sissi" und "Elisabeth"
"Die Dichterliebe"
"Italienisches", "Französisches"
& "Russisches" Opernprogramm
etc.etc.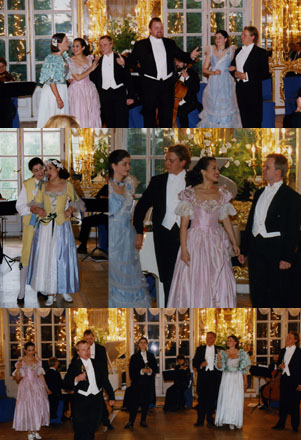 OUR PROGRAMS
Our performances are usually made up of two show-blocks ( each 20-30 minutes) with music taken from the following standart repertoire:
"THE DELIGHTFULL MOZART" (our HIT)
Amusing scenes, arias and ensembles from his best known operas and chamber pieces. An amusing and at the same time contemplative selection of the maestro´s wonderful music, presented in magnificent rococo-costumes and accompanied by a commentary which brings Mozart closer to the audience..
"DIE FLEDEREMAUS " "The BAT" (Finale, Act II)
The highlights from Johann Strauss´s "Fledermaus" - a sparkling gala evening with count Orlwski and the timeless melodies, which have earned " Die Fledermaus" praise as the "Queen of Operettas" - presented in tails an impressive evening dress.
"THE SOUND OF MUSIC"
The highlights from "Climb Every Montain" to the evergreen "Edelweiss"

SPECIALS
These are not part of our standart repertoire and are therefore produced and performed on request from our clients:
"3 centuries of Viennese music"
"Don Giovanni in Prag"
"The Jolly Classics"
"Sissi" and "Elisabeth"
"Italian", "French" and "Russian" opera programm
"Musical programme"
"Christmas programme"
"Lieder" etc.